I love the tradition of carving pumpkins for Halloween and Melissa and I carve one each every year. Last night we were late home from working in London so our pumkins were a little bit rushed so that we could get them outside but I still love them:
Unfortunately they weren't on our doorstep in time for the trick or treaters so we still have masses of sweets that we have to eat ourselves now!
Speaking of leftovers, we also have loads of pumpkin flesh that I scooped out of the pumpkins before carving them that I'm just figuring out what to do with. I've found a few ideas online and am now trying to decide between them: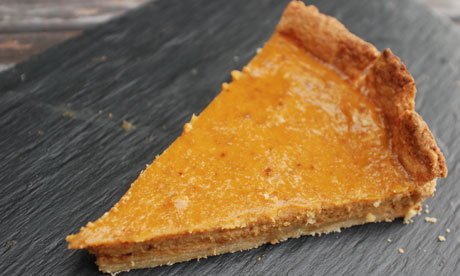 Felicity's Perfect Pumpkin Pie from The Guardian
Pumpkin Bread from Hell Yeah It's Vegan
Valentine Warner's Pumpkin Soup
Mini Pumpkin Pie Bites from Bakerella
Pumpkin Cupcakes with Rum and Maple from the Cupcake Project
Pumpkin Pecan Pie with Whiskey Butter Sauce at Epicurious
So which should I choose? If you have a great recipe pumpkin recipe to suggest - leave me a comment! x
Update: And the winner was...
Pumpkin bread from Hell Yeah It's Vegan.
It was a really lovely spiced tea bread, deep in flavour and very moist. I substituted pecans instead of the walnuts and vanilla instead of cloves in the recipe and also used honey instead of maple syrup because I didn't have any (although that does mean it's no longer vegan).
I really enjoyed eating this bread, but I did find it was missing a bit of lightness, which I guess is part of what the egg provides in non-vegan recipes. Still it disappeared pretty quicky - thanks in part to Melissa's workmate David who cheekily asked for Melissa to pack an extra slice in her lunchbox every day last week so he could have a piece too :o)